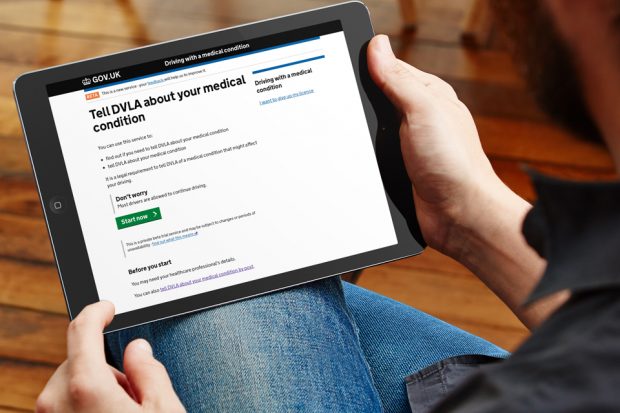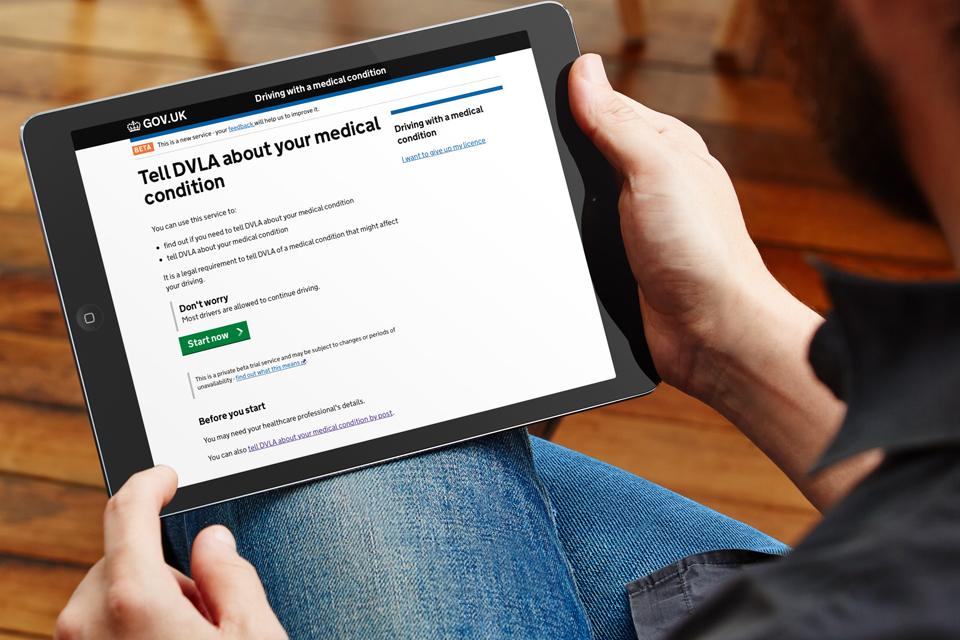 I'm really excited to tell you that our brand new online medical licensing service is now in public beta. Car drivers and motorcyclists can tell us if they have diabetes or single vision conditions by using this 24/7 service.
If drivers hold a short period licence for diabetes, they'll also be able to renew their entitlement using the new online service.
It has been a great learning curve for us at DVLA. It's the first drivers web service we've developed since we took control of our future by bringing in-house the technology team to keep our services running. It's also allowed us to embed agile working more than ever.
To set the scene
All drivers are legally obliged to tell DVLA about a medical condition that could impair their ability to drive, such as diabetes, glaucoma and epilepsy. Our customers tell us by post or phone and are then sent a series of forms to complete. We use this information to decide what further actions to take.
There may be instances where some drivers fail to declare a medical condition. Many are afraid of telling us in case they lose their driving licence.
We want our customers to do the right thing
A driver should ask their doctor if they think their medical condition could affect their driving. If it does, they should tell us straight away.
Our online medical service will provide licensing advice on the possible outcomes or next steps. This may include the potential to issue a shorter period driving licence, which can be valid for 1, 2, 3 or 5 years.
Over 90% of those who tell us about a medical condition continue to drive. Some may be issued a shorter period licence.
To use the online service, drivers will need to register with GOV.UK Verify to prove who they are online.
We did the research
We've become used to developing services based on user needs, and this project was no different. It was a refreshing journey of discovery, as we had no preconceived ideas that digital was the answer!
Last year we conducted extensive research and insight into the current service. As well as traditional surveys, we visited 43 UK towns and cities to interview people with various medical conditions. This helped us understand how their conditions affected them on a day-to-day basis.
This research provided a lot of insight in to how they perceived the current paper service in addition to highlighting that 55% of drivers would like to tell us about a medical condition online. So, our online service has been created as an alternative to time-consuming paper forms.
During private beta, we continued to gather customer insight from usability sessions across the country. We also visited some customers at their homes. There's been some really exciting work conducted in this area – watch out for a future blog on this topic.
Transforming our service
We were determined not to just lift and shift the existing paper medical services into the digital arena, but to transform them to benefit of our customers while improving our back office functions.
Working with our medical advisers and advisory panels let us streamline our forms and stopped us asking our customers for unnecessary information. All our questions are now binary (customers can only give 1 of 2 possible answers) as opposed to writing in free text – this helps in our decision making.
Having our policy and legal teams involved was also really important, as part of the service includes instant advice to customers on the potential outcomes of the service.
Our forms and processes were analysed and tested to gain customer insight, and further improvements were then made based on their feedback. We got rid of unnecessary correspondence, reducing the time taken to assess a medical application, and made the whole process more efficient.
We also set up a dedicated team to deal with the online medical cases and we are currently piloting new ways of working. This has transformed our medical service for both our online and paper channels.
Interaction and service design
Designing a service which is accessible to all is our main priority. If a customer has a medical condition affecting their fitness to drive, they may also have difficulty accessing an online service.
We found asking our customers just one question per page worked really well, a real breakthrough. Spelling was also an issue. There was hardly ever one definitive name used for a specific condition, which had led us make a number of customer improvements in terminology, and phraseology we use (we'll tell you more in another blog).
What's next
No time to rest on our laurels though as we begin the process to improve our beta service to make it ready to move into a live service.  We'll be adding more medical conditions over the next few months, for example epilepsy, stroke and Parkinson's, to name but a few. Ultimately the service will cater for in excess of 160 conditions.
Then the small matter of concluding the discovery work for phase 2, which looks at potential future iterations (additions) of the service. I think you'll agree, a lot of interesting and exciting things to come!
Keep an eye out soon for further blogs.