When I arrived here in 2013, DVLA IT was delivered via a third party contract. We were basically an IT assurance function - definitely not in control of our destiny or technology.
The past 22 years
We relied totally on our third party IT partner to provide and support our IT services. 12 of those years were covered by our Partners Achieving Change Together (PACT) contract - an outsourced IT approach.  Rightly or wrongly, it certainly reflected the trend at the time when non-technologists regarded IT as non-core, and were only interested in 'outcomes' as it was called. In the technology field we were always aware that how you architect the approach will always impact the 'how', 'speed to deliver' and 'quality /cost' of those outputs.
The PACT contract came to an end on 12 September 2015
Since then we've fully in sourced both the capability and responsibility for our IT estate.
It's been a huge challenge and to give you some idea of the scale of what we've achieved here are some of the numbers involved. Taking back control meant taking responsibility for 400-500 IT roles of which 302 transferred across as employees under the Transfer of Undertakings (Protection of Employment) [TUPE].
We also took on:
300 contracts
600 technical tools
62 different IT services from Incident Management to Change Management
All of these are fundamental to support the 65 business services currently offered to customers and stakeholders. It was critical that we got it right.
Before we exited the contract
Contracts were managed by an outsourced contract with Concentrix and Fujitsu - effectively a black box from which they ran the IT services and contracts I've mentioned. Throughout the exit programme we discovered some of the complexities that over the years contributed to high costs of change, increased service costs and service technical issues.
Exiting the contract is just the start
There will be challenges ahead, but this is a massive opportunity for us.
We're the first government department to exit such a large outsourced contract with a single supplier. We've taken on sole commercial responsibility and brought our IT in-house.
Key benefits
Significant savings of around £70m on the re-tendering and around £22.5m per year will obviously be one of the key benefits. Our main aim is to create an enabled IT capability made up of highly skilled people from DVLA and the local area, alongside bringing skills and job roles back in-house. This will safeguard jobs in DVLA and the Swansea area, creating new roles and opportunities for our staff as well as those who have transferred from Concentrix, IBM and Fujitsu to DVLA this year.
We've established a relationship with the local universities leading to more effective training and greater up skilling. We've also funded 20 places at Swansea University's Computer Science Foundation course for DVLA staff and 6 graduate placements for University IT Students with a pathway in place for annual placements for the years ahead. This is only the beginning - a significant step change for DVLA and I believe if we invest in our staff we'll improve our working environment and our overall capability.
Reorganising the way we work at DVLA also sees us work more closely with the business areas.
It's important to recognise that DVLA's Information Technology Directorate (ITD) led this initiative. It's testament to the strength and capability of ITD's senior management team, the ambition they had to succeed, and the leadership they displayed. These skills, combined with the support of others throughout DVLA and our Cabinet Office colleagues, were critical.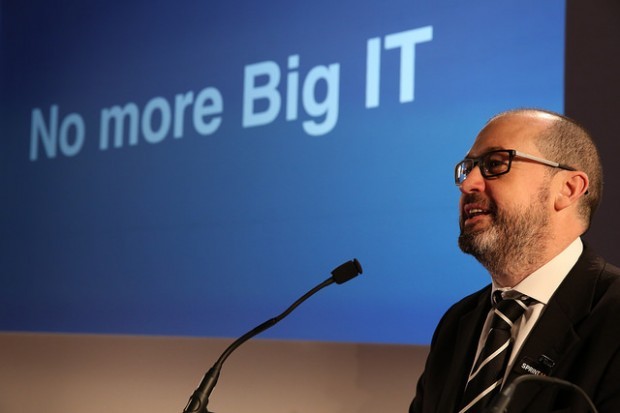 Two years ago there may have been doubts that we would achieve this outcome. I'm happy that if those doubts existed, we've proved them wrong. The team have shown leadership, and they've delivered, using all the agile skills that were honed while we worked on our 3 exemplar programmes. We've made this our own and we've excelled at it! I'm very proud of the team and it's been a privilege working with them. I'm confident they'll continue to take this forward, continue to strive for excellence and continue to be brilliant.
Check out our YouTube video 'Driving Transformation'- featuring DVLA's Chief Technology Officer Iain Patterson.
Follow DVLA on twitter.