A year ago we said goodbye to the paper counterpart of the photocard driving licence and hello to the service that does it all. Now, in one place you can view or share your driving licence and check a driving licence.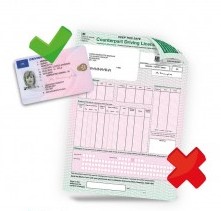 Getting rid of the paper counterpart was part of the UK government's challenge to cut red tape. It was a huge project for us in DVLA. We wanted to cut the burden of keeping this extra bit of paper with the photocard for motorists and businesses.
Our customers can go online or phone, worldwide
Nowadays our customers do not need to scramble around at the last minute looking for the extra bit of paper. Using our free service, customers can view and share their driving licence which allows them to stay in control of who to share their details with. They can also print a summary of their up-to-date driving licence.
It's less hassle, you don't need to search for it and it saves half a million GB drivers £20 each to replace a lost counterpart. That's around £10 million a year.
Businesses and organisations now have greater confidence
Carrying out driving licence checks brings with it a lot of responsibility. So it's really important that third parties (such as employers, rental companies and driving instructors) can check if a customer or employee's driving licence is valid and be confident that a driver is fit to drive.
The service also allows third parties to check driving licence details from the 45 million driving records held on our database. The driver generates a check code from the view driving licence section, and the third party redeems the code to access the record summary through the check driving licence section.
This reduces the time previously taken waiting for the driver to present the driving licence and counterpart. They can also download a PDF confirmation of the summary and save or print it off for their record with the driver's permission.
Our services are easy to use
Our services are fully responsive and work on all mobile and tablet devices as well as PCs, but do not just take our word for it. Over a million customers a month who have been using our view driving licence service say yes! 92% are happy with the service and over 400,000 customers who cannot use the online service have also been on the phone asking for a check code.
We're now in your hands
Our online services are now in the hands of you, our customers, and we're constantly asking for your feedback on what works, doesn't work and how it can be improved. More people than ever are using DVLA's digital services and a lot of our success is down to you. So please keep in touch with suggestions on how we can improve, or leave a comment below.
There's more to come as we embrace a digital landscape and continue to create and improve services that are quick and easy for all our customers!
Follow DVLA on Twitter