Three months ago, I left my job at IBM after 15 years to become a civil servant with DVLA. This hadn't been on my grand plan for world domination. A combination of factors including a desire to spend more time with a very young family and the genuinely exciting opportunity for digital transformation at DVLA proved too difficult to resist.
This wasn't an easy decision to make. I'd previously seen the public sector as being risk averse and slow to change and adapt, especially when it came to technology, and the last thing I wanted to do was deskill myself. This has now changed thanks to direction from the Government Digital Service, but it can take a long time to change wider perception.
The last 3 months have been hectic: completing Ironman Wales, helping deliver my baby daughter in the back of our car, and embracing much of what DVLA has to offer. I wanted to take a moment to reflect on how things have gone in my first 3 months as a civil servant.
Helping to grow a digital community
Digital skills are massively important. A House of Lords committee report said that children should be taught digital literacy as a core skill alongside Math's and English. At the same time, a third of people in Wales lack basic digital skills. The digital exclusion heat map below does not make pretty viewing.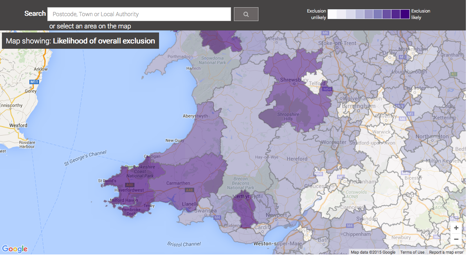 At DVLA we're actively committed to increasing digital skills in the area - by working with Code Club, Stemnet and local primary schools to teach the next generation how to code in South Wales. We've also partnered with TechHub Wales (A Year at the TechHub), and I've spent time with the directors, looking at future plans and attending evening events.
Swansea is also home to a new digital economy research centre worth in excess of £7m, which will help create and deliver digital innovations with real world impact. I represented DVLA at the first steering group, and can't wait to get involved going forward. A new digital innovators' network is also being funded as part of the Welsh government's digital innovation fund.
There's a genuine buzz around this region. Tech City news report South Wales as 'a tech force to be reckoned with', and there is exciting potential with the new Swansea University Bay Campus and proposal for the world's first man-made, energy generated tidal lagoon in Swansea Bay.
Taking part in a Salesforce hackathon
We're looking at Salesforce for the customer relationship management solution to modernise our Contact centre. I took part in an Ignite session to generate ideas, had a day's training on the platform, and built a working cross device prototype in a hackathon. My team ended up finishing third, though I think we were robbed!
This is the second hackathon I've taken part in this year, and I loved it. I learnt so much about the real life problems in the Contact centre in just a handful of days working in a cross business team. We all worked together with genuine enthusiasm throughout. It also gave me a chance to get my hands on the Salesforce platform, and rapidly understand more about its capabilities. This is definitely the best way to learn by getting your hands dirty, as opposed to trawling through product documentation online.
Organising an event with Amazon Web Services (AWS)
Through our partnership with TechHub, I arranged an event with AWS broken down into sections on innovation in the cloud, digital transformation case studies and smarter cities. I wanted to try and attract other public sector organisations in the area to attend to start building a community to share best practice. Despite the short timescales involved, I was blown away at the response. We had about 130 people attend from around a dozen organisations including: DVLA, Driver & Vehicle Standards Agency, Companies House, the Met Office and Welsh government, as well as local councils and universities.
We even had Richard Godfrey, Assistant Director at Digital Peterborough for Peterborough City Council travel down to talk about the amazing work they're doing at Digital Peterborough. I had no idea Peterborough is now one of the most technologically advanced cities in the world. In fact, it has just been crowned 'Smart City of the Year 2015' in a global competition, beating off other shortlisted cities including Moscow, Dubai and Buenos Aires. This is definitely something for Swansea to aspire to.
There was genuine interest from all those that attended, and I really hope this is the start of regular meet ups that will bring much more joined up learning to public sector in the South West.
Learning about situational awareness
Understanding situational awareness through the use of 'Wardley Mapping'' has been on my radar for a while. I've previously spent time teaching myself about the technique, but I've now had the real privilege of being taught by none other than Simon Wardley himself. I can't express just how important I think this technique, and it can be applied to multiple scenarios, is. I've written up some aspects of this in my First impressions of Wardley Mapping with more posts planned.
Building an application program interface (API) and meeting Companies House
I've been defining DVLA's API Strategy, and have started a discovery phase looking at opening up API's to some of DVLA's data. My personal view is that APIs will be essential to DVLA's future, helping to drive innovation, increase digital take up and help us achieve our targets. I'm exceptionally keen to learn more, so I've already developed working prototypes trying out various products.
Last week I met up with Companies House to learn from their experiences of delivering an API platform. This follows on from an earlier trip to HM Revenue & Customs. It would be crazy with so many departments further down this journey than DVLA not to reach out to learn what went well and avoid making preventable mistakes. I've found these incredibly valuable, and it's great to have peers outside DVLA that I can bounce ideas off.
Now for the next 6 months
And I know it's not going to stop there. Over the next 6 months I will be presenting a seminar at the government ICT conference in January, getting involved in a large people and data event in London (with TechHub Wales) and bringing about the first DVLA open Web APIs. I'll also be working with Swansea University on a research project to look at open data, and plenty more beside.
So what does this all mean?
The public sector, and DVLA in particular, is a hugely interesting and exciting place to work. I'm learning more now than at any point in my career. I'm writing code utilising modern technologies and techniques suitable for cloud native solutions. I'm rapidly expanding my network across many public sector organisations. I'm working on projects delivering exceptional services to the general public, and getting involved in many initiatives building a digital community that can make a real difference to the region. It has rekindled a real passion for technology.
I'm realistic enough to recognise not all the initiatives and opportunities will come to fruition, and success will depend on a combination of many factors. Whatever happens, I'll build up significant knowledge and real world experience that can only benefit me going forward, and I'll have a great deal of fun trying.