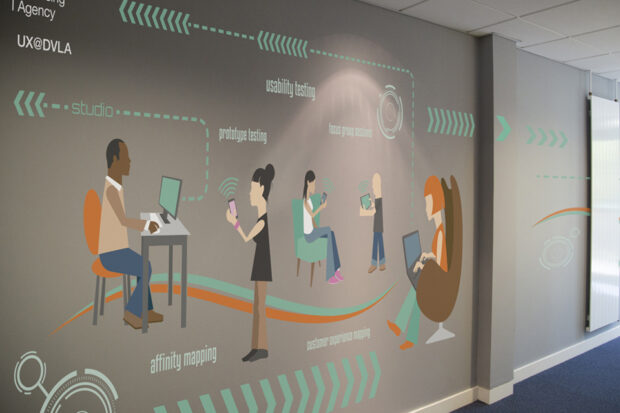 In March I blogged about UX@DVLA as the build entered the final stages. It's been a hectic few months and it's the right time to give an update on how the lab is doing.
I knew all the hard work, faith in our research team and the investment we've made was worth it at the first live test back in May. The lab was full of service designers, developers and analysts as we tested the latest version of the vehicle management service with members of the public. For the project team to be able to see their design being used by those who need it, in an environment that allows us to observe and explore the subtle usability issues was a first for DVLA. Quite a moment for all of us involved.  Sessions like this, and dozens since, have allowed us to dig deeper into customer behaviour and how that crosses over to how we design our services to be the best they can be.
We've fundamentally changed the way we support service design
UX@DVLA allows us to test our new or prototype services on multiple devices. We've gone from producing text heavy, sometimes cumbersome reports that could take weeks to pull together, to producing edited footage, often accompanied by a short text summary within a few days. This change complements the agile environment all our services are designed in.  It works really well.
Footage of usability tests, interviews or focus groups held in the lab or out with our users across the country has been used to support the development and assessment of every customer facing service we're working on. From vehicle management to Share Driver Licence, fitness to drive to taxing a vehicle or web chats.
The lab is used more or less every day, helping us to improve our services but this is only part of the story...
 Others have seen what we're doing and they like it a lot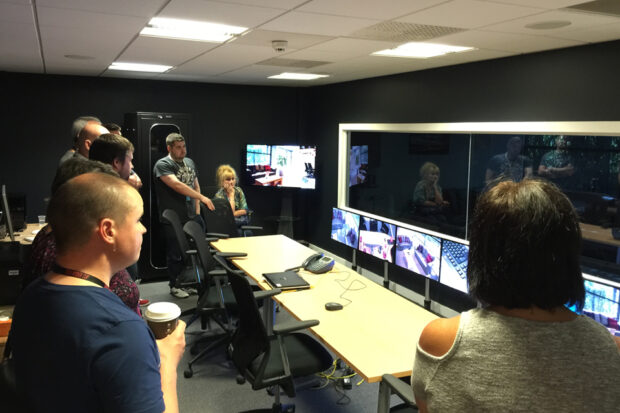 We've had some really good feedback from the private and public sector and they're been a lot of interest in the focus and effort we put into making our services simpler and easier to use all based on the detailed customer insight we gather. We're really proud of that.
One of the aims of UX@DVLA was to provide a state of the art facility for others to use too. Here are a few examples of how we've worked with others in the lab:
We carried out an in depth study for Swansea City Council, looking at their online council tax and benefits pages to help them make improvements for their users and to reduce demand on their contact centre
We've worked with the Driver & Vehicle Standards Agency on their online 'Book your theory test' service, with more sessions scheduled. We're following up on a number of enquiries from people who've heard about UX@DVLA and want to use it.
Next steps
UX@DVLA is a first in South Wales and we're keen to spread the word.  We're working with our Business Development team to help us reach research companies across South Wales and beyond who could use the lab during evenings or weekends when it's not being used by DVLA.
It's been a great start for UX@DVLA.  We're already seeing the customer benefits and I'm sure there are lots more to come.
For more information you can contact us at ux@dvla.gsi.gov.uk