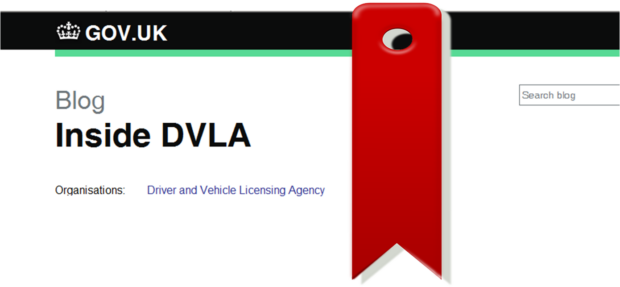 Did you know that you don't need to wait for the Inside DVLA email to look at our blog? You can find it at insidedvla.blog.gov.uk and browse through our weekly updates at your convenience.
Browsing through our blog more often will help you to stay up-to-date with developments at DVLA and keep you one step ahead.
In the meantime why not bookmark Inside DVLA as one of your favourite web pages? It's another way to stay up-to-date with the very latest from DVLA.
DVLA digital services
If you've enjoyed reading Inside DVLA you may also wish to subscribe to our digital services blog. This blog will keep you up to speed on all things digital at DVLA with posts, comments and discussions focussing specifically upon our existing and new digital services. We'll keep you updated on our progress and will let you know how our new services will meet the GDS digital by default service standard. We'll also share our future digital plans.
Email alerts
Did you know that we offer email alerts? If you didn't, you can subscribe to our user alert service today to receive an email reminder each time an article is posted on one of our blogs.
Want to pick and choose what updates you get from us?
No problem. As all our blogs are categorised by subject matter, you control what updates you receive from us – you can choose to receive everything, or only select the topics you're interested in.
We want to know what works for you and what doesn't, so please email any feedback or suggestions for the blog, or comments about any of the initiatives featured, to InsideDVLA@dvla.gsi.gov.uk