Our Inside DVLA and Digital Services blogs aim to keep you - our stakeholders, commercial customers and suppliers - up-to-date with the latest news and information from the agency.
We want to make sure that our blogs are meeting your needs. As part of the ongoing improvement process we want to hear from you...
What do you think of our email alert service?
Are our blogs categorised correctly?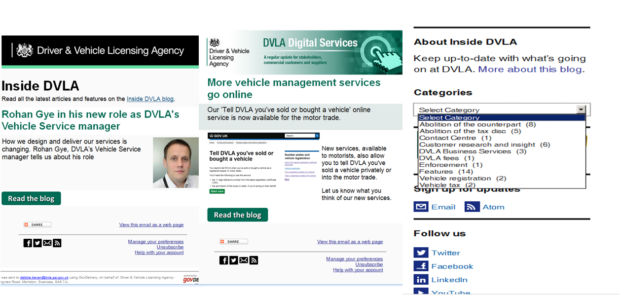 Do you have any suggestions for improvement?
What works well for you...and what doesn't?
Do you have suggestions on what other topics or areas of the business you would like us to cover on our blogs?
We want to hear from you!
We would be grateful if you would let us know what you think of the blogs by completing this short survey. It should only take a few minutes to complete.

All responses will be treated in the strictest confidence. We'll aim to publish an update blog in a few weeks to let you know what we've learned and what changes we're making...
If you've any queries about the questionnaire or experience difficulties accessing it, then please email InsideDvla@dvla.gsi.gov.uk