Ensuring that opportunities for fraud and corruption are reduced to the lowest possible level is a high priority. DVLA's Communications team caught up with the Counter Fraud & Intelligence team, Michelle Slee, Carole Egan, Denis Clucas and Helen Langford, to find out more...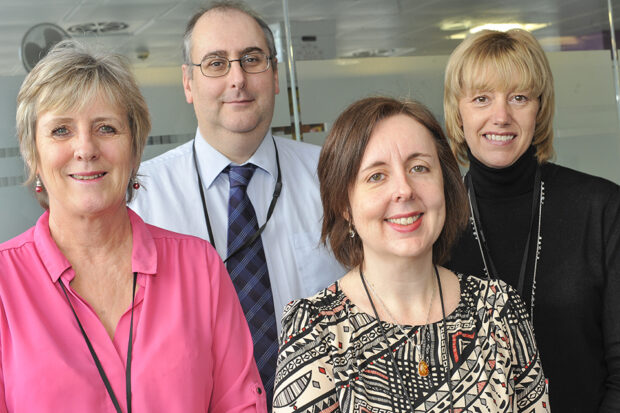 Thanks for agreeing to feature on Inside DVLA. Can you tell me a little about your role and what you do at DVLA?
We identify fraud risks, investigate incidents of alleged fraud, and act as a contact point for anyone wanting to raise fraud concerns. We provide specialist advice to our internal business areas and liaise with the police and other external government bodies to share and build intelligence, best practice, knowledge and experience in fraud-related areas.
We help the police and other law enforcement bodies bring prosecutions where fraudulent activity has been identified by providing evidence and witness statements.
Vehicle and driving licence intelligence is collated into an internal monthly report detailing ongoing and emerging issues. This information alerts various areas in the agency to any emerging trends and enables us to take action to reduce fraud threats.
Eliminating and mitigating fraud risk forms part of our corporate strategy to make our services better and safer for our customers, our stakeholders and our business.
Who are your main (external) stakeholders?  How do you keep in touch with them to make sure they are up to speed with everything? 
The police and fraud representatives in other government bodies such as Cabinet Office, HM Revenue & Customs, Driver and Vehicle Standards Agency, Department for Work and Pensions, Department for Business, Innovation & Skills, Ministry of Defence and the Environment Agency to name a few. We represent DVLA on cross-government panels where new initiatives and common trends are shared. We also work with individual stakeholders on specific fraud risks.
What are the business benefits of working with stakeholders?
Fraudsters don't just target a single organisation or individual. Sharing intelligence and experience enables us to raise our awareness, strengthen our processes and remain up to date with trends. It helps us understand how our operation links in to our external stakeholders and how theirs links with ours.
How do you find out about possible fraud and how do you deal with it?
There are safeguards in our processes and systems to detect and prevent fraud attempts.  DVLA staff are conscious of the need to protect the integrity of our data and services and they will report any suspicious activity to us. Information and intelligence is also received from a variety of external sources such as members of the public, police, stakeholders, whistleblowers and external government bodies.
The team manages and investigates all allegations of fraud and malpractice in accordance with defined policies.  Where a fraud attempt has been detected our processes are reviewed and any lessons learned are used to mitigate and eliminate any weakness.  Counter Fraud Team members are trained to professional investigative practice standards. We also work to minimise risks to the agency's core business and any changes or new processes.
What external fraud threats are there to the agency?
Fraudsters constantly look for different ways to exploit our assets and processes. The driving licence was only ever intended to demonstrate a person's entitlement to drive but many organisations now accept it as a primary identity document. This makes it a valuable asset for a fraudster to attempt to obtain - either in a false name or by stealing someone else's identity.
Stolen or cloned vehicles can be more attractive to potential buyers if they have a registration certificate (V5C) to accompany the vehicle. Fraudsters attempt to obtain a genuine V5C by a variety of means and there are also instances of documents being forged.
We also hold a significant amount of personal information which could be an attractive target. It's an ongoing and constantly evolving challenge.
What type of fraudulent activities are you faced with through social media?
Recently there have been a number of scams impacting on all government departments. We've seen a lot of social media accounts that claim they can supply driving licences and remove points and bans. These accounts are purely scams. They con individuals into paying hundreds of pounds for a fraudulent driving licence.
We've also seen some of these social media accounts displaying photographs of driving licences. These are usually young drivers celebrating getting their driving licence by putting a photograph of it online. Users should never post personal details, including photographs as they are risking their identity being hijacked.
We've also become aware of phishing emails that spoof DVLA email addresses. We advise  our customers to report suspicious emails and websites.
What's on the horizon for the Counter Fraud & Intelligence team?
The way the agency interacts with customers and stakeholders is continuously changing and this brings new challenges and opportunities. We've a strategy of making things simpler, better and safer for our customers and stakeholders. This is a priority for the agency as we're always looking to improve the security of our processes.